Churchill Boat Transport Co.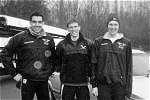 Need reliable boat transport at a sensible price? Let the professionals at Churchill Boat Transport Co. take care of all your boat transport requirements.
Here's a sample of the range of services we have offered to Cambridge College clients over the last six months:
We service all major UK regattas. We will deliver your boat direct to your boating location (or at least to a nearby field).
Having trouble spinning? Boat too long? We'll attempt an overly ambitious U-turn and snap the end off for you!
Boats are delivered consistently late, no matter how close the destination. This added stress raises your base heart rate and makes your pre-race warm-up more effective.
We can offer delivery to unusual locations that other boat transporters just can't get to. In particular, we are experts in dealing with low bridges, barbed-wire fences and poorly parked tour buses.
Concerned about your opposition following you to your secret training location? Our trailer indicator wiring is specially reversed to confuse following vehicles.
Tough first round draw at Henley? Arrange for us to transport your opponents to the race... we'll have their boat out of action for months.
All boats are turbo-tied(TM) to cope with the enormous acceleration of our dodgy turbocharged 1987 Volvo towing vehicle.
We are the only boat transporters in the UK with a vehicle dynamics specialist to configure the trailer for maximum safety.
We now offer a special self-drive service. Prior to delivery, we make a number of modifications to the trailer to ensure that it is unroadworthy. We also give details of your route to the police, to guarantee that you're pulled over.